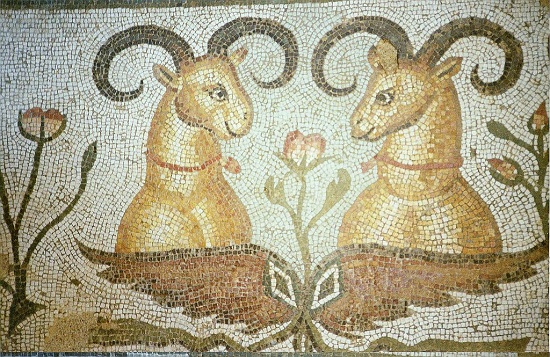 We have more than fall in the air this October. I think most of us can feel the tension and tenuousness of the moment. Some are feeling pushed and cornered, others anticipation and a sense of arrival, and others feel exhausted yet on the brink of something.  Like Odin, Norse god of death and prophetic wisdom, change comes in different guises.
Collectively, we are in a period of decay, destruction, and deconstruction for the ultimate purpose of renewal (AKA Pluto – Uranus square). We have to tear down what was to make way for what will be. Those institutions, people, habits, personal structures, ideas, etc., in which we have invested power may be turned on their heads, especially if they've become oppressive, rigid, or limit our freedom or authenticity. This is happening both personally and collectively, even globally.
So if you've been thinking, "Something has got to give" or "I need to make some changes," not only are you not alone, you're right on schedule.  The years 2012 – 2015 represent a period of endings and new beginnings. (If you want to know what these new beginnings look like, turn to your friends who have birthdays between the 20th – 27th of the month in March, June, September, and December, as they are the heralds of this revolution.)
But before we move into October proper, let's back up a few days because the full moon of September 29th really brings these dynamics to a head.  With this moon, we have the opportunity to break away from our past.  How to do it? Of course you might impulsively react to the pressures around yourself or strike out in resentment.  It's true that such responses to the tensions at the end of the month could result in breaking down the current strictures of your life, making room for the new. Unfortunately, they also lean heavily on the reactive/destructive qualities of Uranus-Pluto.
The challenge is to keep the focus on yourself, as externalizing limits your capacity to set your own path. If you put the focus on power struggles, frustrations, and conflicts with others, you lose the opportunity to confront the power struggles, conflicts, and struggles going on within you.  Do you have an inner oppressor that keeps you in your place? Do your fears of moving forward have you trying to control everything and everyone around you? Are you coasting along in a situation that is comfortable but deadening? Now is the time to put some pressure on yourself to change and watch the world around you change in the process. Heed the immortal lyrics of the B-52s: "Get out of that state, get out of the state you're in!"
Starting around the full moon on the 29th of September and lasting through the first week of October is a T-square between Mars, Venus, and Neptune. People can be overly sensitive, and misinterpretations of social cues can abound. Be careful of reading too much into others' interactions, as things aren't often as they seem, and it's easy to overreact to slights (real or imagined) that might otherwise go unnoticed.  Better to channel this same sensitivity into creative projects or into escaping the day's pressures: turn up the music, go to a movie, visit a museum.  Feed your imagination on something substantive and uplifting.
Compounding the social fragility, Venus leaves buoyant Leo for exacting Virgo on October 3rd.  We tend to be less forgiving of ourselves and others when we or they don't meet our standards or expectations. Keep this tendency in check. Instead, use Venus' stay in this pragmatic sign to shore up your finances and budgeting, clean and repair your space, and tie up loose ends.
On October 4th, Jupiter turns retrograde (appearing to stop and turn directions in the sky) at 16 degrees of Gemini.  As Jupiter is retrograde half the year, I don't want to put too much emphasis on this, but a good rule of thumb is to think about the planetary energy involved – in this case expansion, growth, learning, moral/philosophical/spiritual frameworks – and expect it be more internally directed. Now is a good time to touch base with your truths and what you believe and ask yourself if your life reflects them.  If not, what needs to shift to align you and your principles?  In six months time, you can take what you've discovered and put it to work in the outer world.
On October 5th, Saturn moves into Scorpio after its two-and-a-half year stay in Libra.  Over the past couple of years, we've been questioning the balance in our lives. We may have pondered whether we had the right relationships or whether the give and take was equitable. We may have needed to mature in our approach to relationships, whether by setting more boundaries or learning to be more cooperative. We may have noted a lack peace, beauty, or pleasure in our lives. In whatever form, the past few years have been about noticing where we are out of balance and figuring out how to get that equilibrium back.  This work might not be complete, but that was our task.
Starting this October and lasting through September 2015, the task is to deeply examine the structures in our lives, despite our fears, to regenerate them.  (Do you hear echoes of the Uranus-Pluto square here?)  In some cases, this will mean tearing down to rebuild anew.  In others, it means repairs and restoration.  Whatever shape this work may take, it's time to transform the areas in our lives that feel stuck, broken, or ridden with anxiety.
Scorpio wants to live intensely, fully embodied and wholly immersed in activities that enliven it. Time and again, it's driven to confront fears, take risks, and push forward in its growth. Part of Scorpio's strategy is eliminating anything which causes stagnation and lowers vitality.  Though Scorpio doesn't enjoy change, its need to feel alive will force it from its comfort zone and toward renewal.
Scorpio can probe its motivations and deep psyche to identify where change is demanded, then remove blockages, roots and all, by pairing discipline and action. In short, it uses self-discovery and fearless self-examination to eliminate old ways of being in a self-administered and essentially psycho-therapeutic process.
Another of Scorpio's tools is crisis.  There's nothing like a life-and-death, brass-tacks moment to get the adrenaline pumping for a leap into action. Trust your gut and your reflexes. Before you know it you'll be on the other side of the gully, breathing hard but otherwise all right, with that bridge you thought you needed seeming like a memory from another lifetime – or from another person.
If you've done your work over the past few years, you're well aware of where life has been out of balance and you've addressed some relationships issues. Saturn in Scorpio asks you start working on the deep structures of your life that disempower you or make you less alive than you know you could be. Yes, the process may feel scary, and the patterns may appear too dense and entrenched to impact, but your task is to trust your instincts and act despite your fears.
On October 6th, Mars moves into Sagittarius, encouraging us to trust our vision and set off on an adventure. Just make sure you don't scatter your efforts and lose focus in the process.
The new moon on October 15th at 22 degrees of Libra is quieter than the new moons of late. Relationships, balance, and peace all remain themes, as we will see when this new moon reaches its fullness on October 29th. Negotiate for what you need, but with Venus square Jupiter, don't overdo your spending or fun.  Mars in supportive relationships with Pluto and Uranus points to an opportunity for creative action that can move you forward on your dreams and long-range vision.
At month's end, we have a confluence of activity, making for a busy close to October. On October 28th, Venus returns to her home sign of Libra, underscoring the theme of the past few months: rebalancing our lives and our relationships.
On October 29th, Mercury moves into its sign of detriment, Sagittarius. Mercury is less comfortable with this sign's propensity for the big picture sans the details and Mercury is in the retrograde shadow period. Check the fine print in documents, confirm information if you're not clear, and keep your sense of humor when miscommunications arise.
On October 29th, we end the month with a full moon at six degrees Scorpio/Taurus. This moon often raises issues around what we have and do not have, contentment with what is versus discontent over what is missing, and questions about what to keep and what to let go.  Use the full moon energy to take stock. As Saturn is with the Sun, it might be easier to see what is lacking than what we enjoy, so set aside a little time to acknowledge the bounty in your life.  Stock-taking requires us to take note of our resources as well as what's missing from the shelves.
Relationships can be tense, especially around love, money, and matters of equity. Starting Oct 28th through the first week of November, Venus will be in stressful contact with the Uranus-Pluto square.  People can be testy, situations tense. There's a tendency to use indirect methods rather than being upfront. Power struggles can crop up and negotiations can take unexpected turns. You are better off owning any issues that arise during this period, saying, "We seem to be getting off to a poor start here. When you said X, I immediately began to fear you meant Y. I'm concerned that [insert anxiety here]."
We often act subversively or manipulatively when we are fearful.  During this time period, we need to bring our worries to the light, own what scares us, and empower ourselves to ask for what we want without trespassing others' boundaries.
The challenges here? The full moon is in a fixed sign, so though relationships are under pressure to change, no one is feeling particularly flexible.  And Mercury and Neptune are in a tense relationship, clouding our reason and making us downright paranoid and irrational at times. Our imaginations are fantastic right now but we'll need forthright discussions not free-floating imaginings of the worst.
Ah, but the potential: If we can harness the discipline and the patience to constructively negotiate with others while genuinely striving for fairness, we can restore the balance, equity, and peace we're seeking. We might find the fulcrum between ourselves and others, between the demands of life and our desire for peace—that heart-centered place from which we can empower ourselves without disempowering others and give without giving ourselves away.
If you know your rising sign, read the forecast for both it and your birth sign.  As always, a monthly sun sign column is no substitute for a consultation based on your actual birth place and time.  For more information on my services or if you wish to set up a consultation  email me.  
ARIES:  Over the past few years you've been reorganizing and reprioritizing your relationships.  Next on the list?  If you have debt, now is the time to restructure and reduce it. It's also a great time master old anxieties and fears that have haunted you. With a little patience and perseverance, you could toss them out to the curb for good.  Gemstone: Obsidian
TAURUS:  Take care of any health concerns you have. Or, better yet, start a health routine you've been putting off, especially one that makes you feel good about yourself.  It's likely to take root.  A period of growing responsibilities to others and restructuring your relationships is beginning. Use this month to get clear on your limits and your desires. Gemstone: Smoky Quartz
GEMINI:  Good fortune and opportunity remain in the air, even more this month. Opportunities for growth come through friends and calculated risk, so this is no month to sit on the couch. Impulsive speech blows back on you, so practice counting to five when talking with others. Increased responsibilities on the job begin this month. Don't fret; increased authority and stature follow.  Gemstone: Blue Lace Agate
CANCER:  Put your energies into home this month. You need to recharge your batteries, and making your home more beautiful and welcoming will soothe your frayed nerves. You also need time to get clear on what you want.  Your need for creativity, self-expression, love and play all depend on your ability to get serious and set some boundaries. No one offers this by home delivery; you have to create a framework for yourself.  Gemstone: Amber
LEO:  Have something to say? You can be particularly graceful and eloquent this month, so get your thoughts onto paper or into your blog. Your home may need a little TLC, so get the jump on it. Take an inventory of any repairs you've been putting off around the house and throw together that to-do list. Gemstone: Citrine
VIRGO:  You've been feeling the financial pinch over the past few years. But if you've been cautious and structured your life to fit your budget, you're on the way to feeling financially sound and developing a new relationship to money. You may even have a new source of income for your efforts. Next up, a whole new focus: community, communication, and networking with others. Time to get the word out. Gemstone: Celestite
LIBRA: The last few years you have been learning how to set boundaries as you start a new phase of life. On the agenda? Trusting your own authority and owning your responsibilities (no head in the sand!). The next phase of growth has to do with establishing a firm financial foundation. I have one word for you: savings.  Gemstone: Hematite
SCORPIO: Recently you have made at least one important decision, and finally it's time to move ahead and declare yourself. Making things real means dealing with the limitations of reality: nothing moves as quickly as you imagine, and everything requires more work and persistence. Good thing you're up for the challenge.  Gemstone: Malachite
SAGITTARIUS: With Mercury and Mars traveling through your sign this month, you have to take extra care not to rush out of the gate only to trip on your scabbard. Your convictions can be infectious, if balanced with tact and diplomacy. Getting facts in line also helps. Tempering your enthusiasm with a genuine interest in others will prevent you from trampling over them.  Gemstone: Howlite
CAPRICORN: Finally, Saturn moves out of your career house and stops leaning on you so hard, inspecting every aspect of your life and weighing it in the balance. It's time for a new start, one with more balance and maybe a bit of fun. Don't be surprised if you cast a serious eye on your friends to see who really supports your vision for the future.  Gemstone: Labradorite
AQUARIUS:  The past few years you've been testing your values and your beliefs by living them. Ideally, you've eliminated those big ideas which didn't hold water and matured in your approach to the world. If so, your career is due for a boost. If not, it's time for a course correction. Start listening to the push-back you've been receiving and adapt accordingly. Gemstone:  Peridot
PISCES: Listen, fishes, you're doubting yourself like never before! Nothing seems certain. It's time to finally let go of some ideals you've held dear. Your values need to be questioned. Is it even possible to walk your talk, or are you trying to live a beautiful but impossible dream? If it's the latter, focus on doing the loving thing that you can do. Here. Now. In this world.  Gemstone: Onyx