A UNIQUE RETREAT EXPERIENCE
October 4 - 8, 2018
This unique retreat offers a journey into the Mandala of the Five Dakinis, developed by Lama Tsultrim Allione, to bring emotional transformation onto the spiritual path. The mandala creates a sacred geography within the psyche, proven to be healing by Western scientific studies, and leads toward the realization of the innate perfection of the world.
Using the mandala as a blueprint of wholeness, we will explore its basic structure -- a center and four directions -- represented by the five "families," with their correlating elements, colors, seed syllables, emotions, psychological types and, most importantly, wisdoms.
The mandala works with energy to express the inherent luminosity within each of us and uses sacred embodiment as a path to liberation. In this retreat, you will be guided through an exploration of the enlightened feminine and the five manifestations of wisdom through meditation, sound, personal inquiry, and guided exercises. In addition, participants will learn how to do the practice of the Mandala of the Five Dakinis.
This experiential retreat begins with an introduction to five families followed by the transmission of Mandala of the Five Dakini Mandala practice. You will then be invited to focus on each of the five families to explore your encumbered emotional patterns and how to transform them into the wisdom of the corresponding family. The retreat will include:
- Transmission of the Five Dakini Mandala practice
- In-depth examination of the Dakini principle
- Guided journey with the Dakini
- Regression looking at the emotion of each family
- Integration with the elements
- Using the mandala as a road map for transformation
Our Retreat Teacher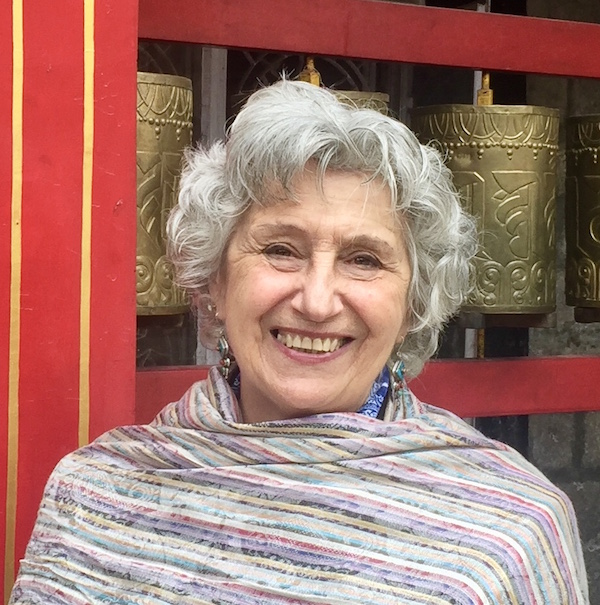 Ellen Booth Church (Yeshe Choepel) has been practicing Tibetan Buddhism for 30 years. She is a Buddhist teacher and an educator and author of many educational books and articles. Formerly a professor of Education at the State University of New York, she is currently an adjunct Professor of Education at Nova Southeastern University. Ellen oversees three satellite Tara Mandala Sanghas for her teacher, Lama Tsultrim Allione. Ellen teaches widely across the US and in Europe and is especially known for her deep knowledge and skillful transmission of the Dakini Mandala.
The Lineage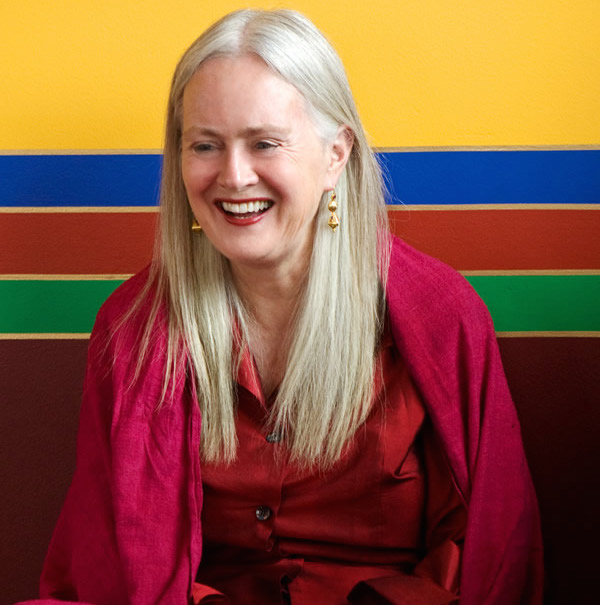 Lama Tsultrim Allione is an author, internationally known Buddhist teacher, and the founder and resident lama of Tara Mandala Retreat Center, located outside of Durango, CO. She is the author of Women of Wisdom and national bestseller, Feeding Your Demons: Ancient Wisdom for Resolving Inner Conflict, which is now translated into seventeen languages, and Wisdom Rising: Journey into the Mandala of the Empowered Feminine. Born in New England to an academic and publishing family, Lama Tsultrim traveled to India in her late teens and in 1970, at the age of twenty-two, was ordained as a Tibetan Buddhist nun by H. H. the Sixteenth Karmapa. After four years living as a nun practicing meditation in the Himalayan region, she returned her monastic vows, married, and raised a family of three children. She has a Master's degree in Buddhist Studies/Women's Studies from Antioch University. Her writings and teachings come from her sublime Tibetan lamas as well as her experience as a Western woman and mother. She is known for her ability to translate the wisdom of the ancient Tibetan Buddhist tradition into clear teachings that are relatable and relevant to Western audiences. Lama Tsultrim continues to guide Tara Mandala as the resident lama, and thousands of students around the world. She was named Buddhist Woman of the Year in 2009 in Bangkok, Thailand. For more information on Lama Tsultrim Allione watch a documentary on her life story Feeding Your Demons, bit.ly/FYDdocumentary, and visit the Tara Mandala website, www.taramandala.org.
October 4 – THURSDAY
3-4pm – Registration
4-6pm – Introduction to Seed Syllables and the mandala concept
6-7pm – Dinner
7-9:30pm – Dakini Principle, the Mandala of the Enlightened Feminine
October 5 – FRIDAY
7:15am - Morning practice
8:00 - Breakfast
9:30-12:30pm – Transmission and teaching of the practice (wear white)
12:30 – 3pm – Lunch break, personal time
3-6pm – White Buddha Dakini (wear white)
6:15pm Dinner
7:30-8:15 - Evening meditation
October 6 – SATURDAY
7:15am - Morning practice
8:00 - Breakfast
9:30-12:30 – Blue Vajra Dakini (wear blue)
12:30 – 3pm – Lunch break, personal time
3-6pm – Yellow Ratna Dakini (wear yellow)
6:15pm Dinner
7:30-8:15 - Evening meditation
October 7 – SUNDAY
7:15am - Morning practice
8:00 - Breakfast
9:30-12:30 – Red Padma Dakini (wear red)
12:30 – 3pm – Lunch break, personal time
3-6pm – Green Karma Dakini (wear green)
6:15pm Dinner
7:30-8:15 - Evening meditation
October 8 – MONDAY (wear any Color or ALL five colors)
7:15am - Morning practice
8:00 - Breakfast
9-12pm – Questions & activating the mandala guided meditation
12 - 1pm – Feast and closing
The retreat is being held at the Gainesville Retreat Center 
Address: 1551 SE 51 St, Gainesville, FL 32641   Click here for directions (Google maps don't always send you to the right entrance.)
Below rates include lodging, meals and taxes:
- Camping $235
- Shared room $278
- Private room $366 (no longer available)
Space is limited. Reserve your spot by sending a $100 deposit to the registrar via the Register Now button
.
- Full payment for retreat portion due September 20th.
Once registered, you will receive (usually within the day) an email confirming your registration and requesting your room choice, dietary considerations and other retreat information. Teacher dana is in addition to the retreat fees.
A note about Dana: 
Teachers of Tibetan Buddhism donate their time in service of the Dharma, so do not charge for their teachings. Traditionally, students offer dana -- a Pali word meaning generosity -- directly to the teacher, in a small ceremony on the last day of the retreat, to honor both the teacher and the teachings offered. (Suggested dana: $125 - $200) 
Questions? Contact Michelle Gould at 352.226.6370 or email michelle@heavenlywriting.com