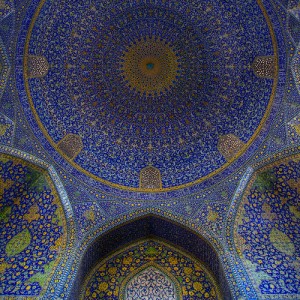 Each year in March as the Spring (Vernal) Equinox rolls around, astrologers giddily peek at the year ahead. The first day of spring, when the sun crosses the celestial equator and moves into the tropical sign of Aries, denotes the beginning of a new solar year and tells astrologers a little about what the solar year will bring.
This year's equinox builds where last year's equinox left off, with the seeds of change you planted last year beginning to push through the soil. This solar year also hints that we have a foot in two worlds: the life we want to create for ourselves and the life we currently inhabit.
The moon on the day of the equinox is in the last sign, Pisces, and is in its final phase, balsamic. It's a moon at the end of its zodiacal journey and its journey in relation to the sun. The symbolism points to the past and a need to finish up old business, tie up loose ends, and make room for a future that we sense is around the corner. As the moon is with Neptune and Chiron and sits opposite Mars, we need to look at where past pain and hurt  (Chiron) might be preventing us from acting (Mars) and leaving our dreams in the realm of fantasy (Neptune).
Pointing to the future we have the Sun, Uranus, and Mercury all in the early degrees of Aries, the first sign of the zodiac, which is connected to new beginnings. Then we have the equinox itself, representing the new solar year and the start of spring.
So, this year's symbolism speaks to straddling the new and the old and living in a state of transition.
This equinox asks three questions: What housekeeping – especially in regards to your own mental baggage – needs attending to?  Where does your passion lie? Are you going to act on your dreams?
As we've been talking about the importance of defining our passions and taking small (or larger) steps toward those dreams, this month I want to focus on the housekeeping.
This equinox, Uranus conjoins the Sun and Mercury in fiery and pioneering Aries, calling us to liberate and revitalize the way we think about and define ourselves. Mercury sits midway between the Sun and Uranus, a special configuration astrologers call a midpoint. Thus, Mercury – our mind, our language, our reasoning, the things we tell ourselves and others – holds the key to our freedom and our purpose.
So, let's talk about little boxes, the kind we put ourselves in without realizing.
The other day I listened to a friend lament about her relationship. Miserable, she listed the reasons the relationship had failed and the ways she felt trapped in it. Some obstacles were real enough – financial concerns, for one – but mostly her thinking, and not the situation, eliminated the possibility of altering the unhappy status quo. Had our roles been reversed, this smart, generous woman would have come up with countless options for me to consider, but she set her own situation in stone: the relationship, her role, his role, and the utter hopelessness she felt were declared permanent.
We've all been there: so wholly enmeshed in a situation and convinced of the "facts" that we limit our view. I call these self-created mental constructions little boxes (sometimes big boxes, if you're working on making them your permanent home). If we tell ourselves the same things often enough, they become our truth and we begin to live our lives crammed into the little boxes we created. We get so used to hunching over that we forget we can use our arms to punch through the cardboard and let in some light.
This equinox reckons to let in some light.
What would freedom look like to you? More time for friends and family? More control over your time? Figure out where you feel trapped and where you need to expand your life, then call upon your creativity to rethink your approach. Why is it you can't have a bit more freedom? And does saying something is the truth actually make it so? If you're too close to the situation, ask friends to brainstorm with you. Stay open as the ideas come.
How easy is it to show up and be yourself, unedited, flawed, and completely authentic? (If you've not seen Brené Brown's TED video on connection and authenticity, treat yourself now.) This equinox, Uranus pretty much demands that an unfettered you arrive at the party. If you hamper yourself with reasons why it's not okay to be you, now is the time to start unraveling those little lies. Repeat after me: I am whole and I am enough.
From there, look to where you code your life in black and white terms: question your inner authoritarian. Terms such as can't, couldn't, must, must not, never, always, have to, shouldn't or should may help you reveal situations, roles, and ideas through which you limit yourself. Once these are identified, try rewriting the script. Entertain new possibilities rather than dismissing or rejecting them. Make "Why not?" your new mantra – and refuse to answer your own question with a litany of limiting rationalizations.
That said, the equinox isn't an invitation to ignore responsibilities or demand freedom at any price. Rebelling against your boss or other authorities in your life might be tempting, but you'll have to be willing to face the consequences around March 29th when Pluto squares the sun. A more effective tactic might be to rebel against the ways we limit our own movement and to make a course correction.
In short, watch your thinking, language, decisions, and self-talk. We are being asked to apply our creativity and sense of purpose (sun) and call upon our inventiveness and sense of freedom (Uranus) and apply them to our minds (Mercury). Ultimately, our identity can be rewired and re-conceptualized, freeing us to be more authentically ourselves, liberating us from stifling little boxes.
Pluto, planet of transformation, applies stress to the Sun, Uranus, and Mercury and will be challenging us to dig deep, to root out and heal the primal wounds and misconceptions from which those self-limiting beliefs and concepts have sprung. This spring, we yearn not only to break free but also to integrate and focus our identity. Asking ourselves why we engage in self-defeating behaviors and when it started can help us at get at the roots.
Where are you a petty tyrant to yourself: agreeing to do things you don't want to do, stoically abiding a situation that breaks your heart, criticizing yourself rather than offering the same compassion you would if it were someone else, making choices that repeatedly backfire, or beating down your self-worth?
Even if we aren't actively examining our ideas and need for authenticity, stressful situations may arise in which we must declare ourselves anyway, especially at the end of March and again in December. Can we show up as we truly are, or will fear prompt us to present a bowdlerized version of ourselves we feel others find acceptable?
Other scenarios: Those with a different truth or reality may arrive in our lives. In some cases someone may try to foist their ideas on us, forcing us to define or redefine what we think and believe. In others, our own ideas and truths may be challenged, prompting us to question long-held assumptions.
Again, the reasons such situations develop is to help us see the issues and get to the root of the matter, to free ourselves from old patterns and to heal. If you do this work and untether yourself, you'll be free to move forward, free to be yourself, and free to pursue your dreams.
You're worth it.