Refining our Inner Vision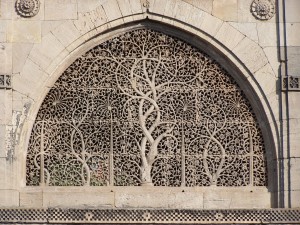 March begins with Mercury, planet of intellect and communication, moving into fiery Aries on March 2nd. Mercury's speed earned him the honor of being the messenger for the Greek gods. Aries, too, is a sign of speed and action, so when you put them together you have fertile ground for flashes of insight, exciting ideas, and passionate discussion. Impulsive decisions, short fuses, and impatience also rear their heads. Use the first two weeks of this month to brainstorm about anything which is important to you right now. Yesterday is gone. Tomorrow is a fantasy. In this moment, what matters to you? Use your connection to the moment as generative fuel for pioneering thoughts and new concepts. Heat up your ideas; burn away old mental debris which clutters your path.
But do it quickly! Because on March 12th Mercury will turn retrograde and the plans which you want to advance will likely bog down and need serious review. It's as if you're trying to move a house by winching it to a motorcycle. You just don't have the horsepower to move it, even though you know where it needs to go.  Rather than impossibly straining at the house or storming off in a fit of pique, park the bike, stroll up to the porch, and really take in the situation. Give it a rest. Have a look inside. Going room to room, what old clothing, paperwork, or useless kitchen appliances could you run to the thrift store? What, with a bit of balancing, can you carry on the bike? Clear out what you can, review what needs to be done, get a game plan together.
Ultimately, it's a period of hurry up and wait. Use the speed of the early part of the month to generate the ideas, to have the flashes of what could be; then back up and reconsider what it might entail.  Materially executing your ideas won't be feasible until after April 4th when Mercury turns direct again—better yet after the 17th, when Mercury leaves Pisces.
Counterbalancing this potential frustration is Venus, the goddess Aphrodite in Greek mythology. She enters her home sign of Taurus on March 5th, reminding us to enjoy life and the bounty around us. If you find yourself frustrated and irritable, the remedy is found in the simple pleasures of life: a lovely bubble bath, a good meal with charming friends, a peaceful walk. Accepting our lives as they are – rather than as we want only them to be – can take the pressure down a notch or two this month. Breathe.
The full moon on March 8th falls at 18 Virgo/Pisces. This full moon conjoins critical Mars and may bring to light what you feel needs fixed – about your life, your body, your relationships, and yourself. Don't forget, however, that Mars remains retrograde, so it's not yet time to act but to review and readdress.
Use the days leading up to the full moon to notice how you frame issues that arise. Where do you find perfectionism, rigidly defined expectations, criticisms or resentments?  These are the areas in which you need to expand your perspective, surrender a bit of control and apply a more creative approach. Being less exacting and more forgiving can ameliorate tensions this week. Ideally, your standards will inspire you to reach higher without paralyzing you with self-doubt or hampering your ability to enjoy life as it is.  (And if you find yourself irritable and out of sorts, revisit my section on Venus!)
Use the illumination of this moon to refine and burnish your dreams so you are inspired to act, propelled forward by your vision. Work, then, becomes flow and forward motion becomes sustainable.
I cannot overly emphasize the importance of clarifying and unifying your vision by the time of the vernal equinox on March 20th and the new moon in Aries on March 22nd. The new moon sits midway between Mercury, messenger of the gods, and Uranus, the innovator, and it squares transformative Pluto. The potential for blowing apart old mental constructs, limiting ideas, and self-concepts is enormous.
In March, we stand poised for creative renewal and personal transformation, the kind of important work that launches a life into a new phase – but first, a bit of review and care. Such a leap, toward which we began taking steps last spring, isn't for the fainthearted. A personal unifying vision is critical to provide the context to keep us oriented and the passion to spur us forward.
So harness your dreams and pull them close. Identify where your plans need reoriented, tweaked, brought down to earth, or made more fantastic. Brainstorm, share your ideas with trusted allies, and assess where you stand without bullying yourself, making yourself wrong, or finding yourself wanting. Put a fine shine on your dreams and ready yourself for the next phase of action, which begins mid-April, when Mercury (our ideas) and Mars (our ability to act) turn direct and build momentum.
Each year at the end of March, we mark the first day of spring with the vernal equinox, the moment the sun crosses the celestial equator and moves into the tropical sign of Aries. This moment denotes the beginning of a new solar year, and, for astrologers, this day tells us a little about the year ahead. Readers can look forward to a peek at that new year along with my April forecast. Until then, enjoy a month of bliss and wonder!
 If you know your rising sign (also known as the ascendant), read that forecast in addition to your birth sign. As always, a forecast written for a general audience is a pale substitute for a consultation based on the moment of your birth. If you'd like to schedule a consultation, please feel free to contact me.
Aries: Carry a notepad: Don't let inspiration catch you unprepared! Ideas can come at any moment and do. Finances are a bright spot this month, or perhaps you simply feel like the Queen's treasury. Insights into the workplace and your health may have you particularly fired up. Enjoy the rush, but wait until April to put your plans into action. Best stone: Amber
Taurus:  Ahhh, it feels good to be Taurus this month. Treat yourself to a lovely meal, candlelight, flowers, the works. Better yet, let someone else treat you. This month is meant to be enjoyed. Yes, you can feel the change stirring in the background, but some moments are to be savored. This is yours. Best stone: Adventurine
Gemini: Seems like the more you try to work, the more details at home or other distractions pull you off course. Friends and associates keep things lively this month, too. If you're head spins from the frenetic activity, try stealing some moments to yourself. Even a social creature like you can use a bit of reckless escapism. Best stone: Fluorite
Cancer:  Watch your tongue this month, Cancer. Your sensitive nervous system is frayed, and your normal moodiness can escalate to outright crankiness. Later in the month, you're prone to hypersensitivity, not helping matters. You find friends particularly calming and nurturing right now, so make time for them. Best stone: Red Coral
Leo:  What a lovely month to define your aspirations. Your guidance system is spot on, so dream large and your chances of landing where you wish increase exponentially. Watch your finances or devise a budget so the details support the grand vision. Single Leos may find love looms large right now. Partnered Leos enjoy that lovely glow, too. Best stone: Larimar
Virgo: You've been busy this year, Virgo. With Mars retrograde in your sign, you may have had to slow down of late, but you will find yourself no less productive; the focus, however, now may be inward. Old ideas about yourself are ripe for review and recycling.  Repeat after me: When in doubt, release. When in doubt, release.  Best stone: Chrysoprase
Libra: With Saturn grinding slowly in reverse at the last degrees of your sign, you may feel the need to tie up old business and get it right. Remember: no shortcuts. Do it by the book! Relationships continue to be high-paced and erratic, challenging you to keep your hard won boundaries in place. It's up to you. Best stone: Yellow Agate
Scorpio: Relationships may have hit choppy waters of late. You're working on transforming your mental framework, and friends and partners reflect back all our messy glory, even when they share painful truths. Admitting they could be right will quicken the pace of your growth. Best stone: Amazonite
Sagittarius: Home could be a bit chaotic this month, and home provides the foundation for work. So stresses in one lead to stresses in the other. Rein it in and focus. Putting some daily routines in place can help ground you and your life in this moment. If overwhelmed, organizing the space around you helps. Best stone: Obsidian
Capricorn:  Nailing down details might be hard this month, so don't try. Instead step into the realm of imagination and let your vision stretch. Unattached Capricorns may find love sweep in with the spring. If in a longstanding relationship, you may feel a sense of renewal and a deepening of appreciation for your beloved. Best stone: Iolite
Aquarius:  Grapple with your financial life this month. Use the first half of the month to determine ways you can afford to step out of one life and into another or to create more freedom for yourself. You may feel the "hurry up and wait" of this month's Mercury retrograde more than any sign, so keep a pen handy and your patience on call. Best stone: Moss Agate
Pisces:  Tap into your beautiful, healing imaginings this month, fishies. Swim in the ocean of what could be. Finances may be rough and tumble, but you should hold your vision strong and keep sharing with others what could be. Take a good hard look at where your shoulds and oughts around money might be keeping your vision tethered.  Best stone: Lapis